Easy DIY Unicorn Birthday Party Ideas Using Your Cricut
Organize a dreamy Unicorn Birthday Party like a pro! It's super easy! With these adorable DIY Unicorn Cricut Projects, you can quickly make the perfect magical backdrop with all of your unicorn birthday party details.
With Bright Star Crafters' super cute unicorn-patterned HTV vinyl sheets, permanent vinyl, and sublimation paper too! You can make anything and everything unicorn from unicorn treats and more! Your little one will love their unicorn party with these fuss-free party ideas.
1. Birthday Shirt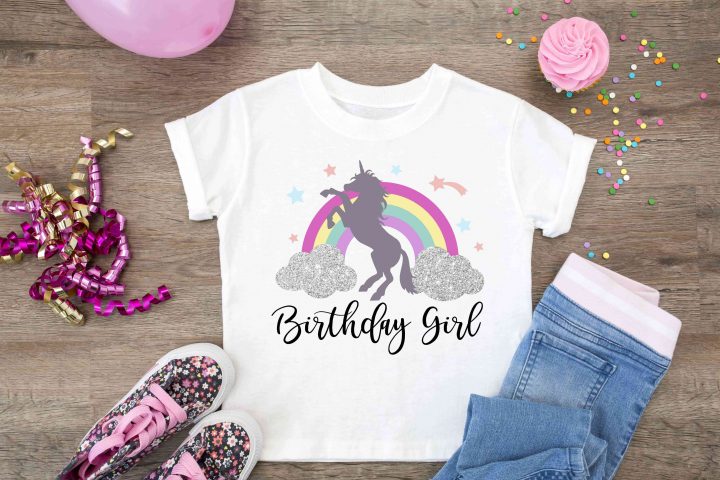 Here's the best heat transfer vinyl for t shirts that you can easily customize in colors that you love! This unicorn SVG is perfect to use on your Cricut to make your little one's unicorn birthday shirt. Make more unicorn party crafts like party bags, table decorations, and more! They'll look super gorgeous and they're mega easy to make!
2. Fun Backdrop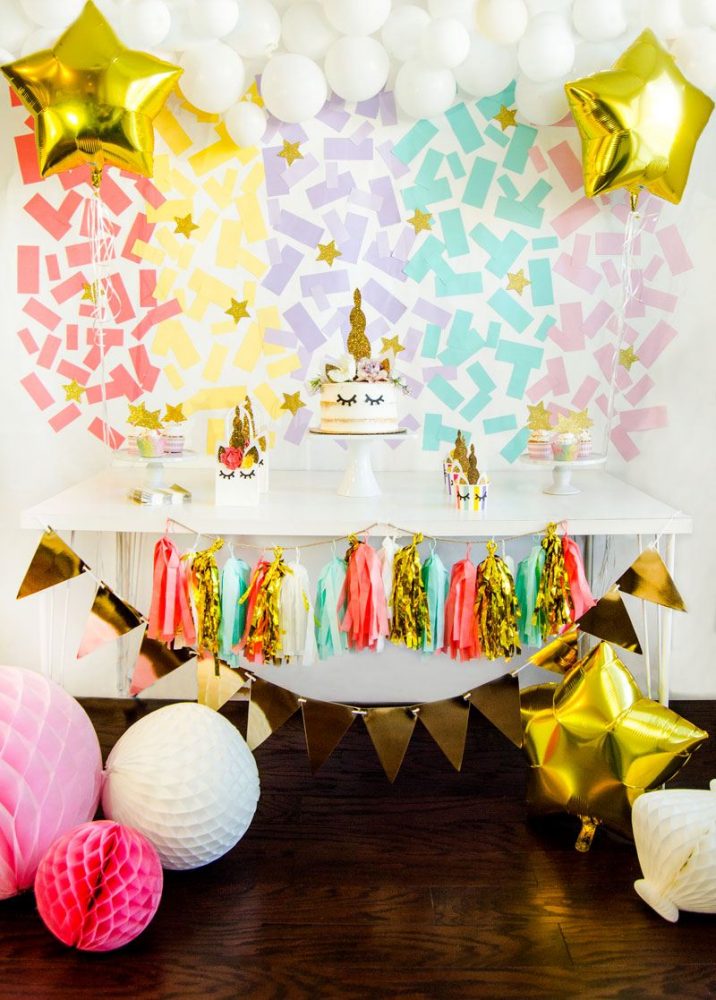 Make sparkly and glittery unicorn birthday decorations for your unicorn party backdrop by up-cyling some streamers or scrap paper. Your unicorn party will stand out even more when you make your custom decorations with these super cute decorative vinyl sheets! It makes a practical, affordable and super creative unicorn party set-up that everyone will love.
3. Glitter Top Rainbow Cake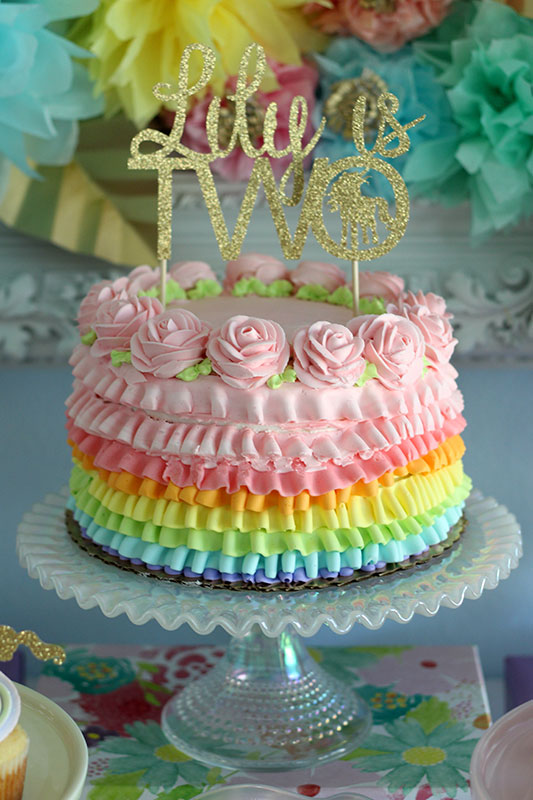 It's a piece of cake when it comes to creating your little one's dream rainbow cake. Easily make this Cricut unicorn cake topper that sparkles and shines like a true unicorn! Leave more sparkles behind! Just cut & apply your extra vinyl decals and stick them onto cardboard to make more unicorn toppers for cupcakes in a flash!
4. Unicorn Treat Bags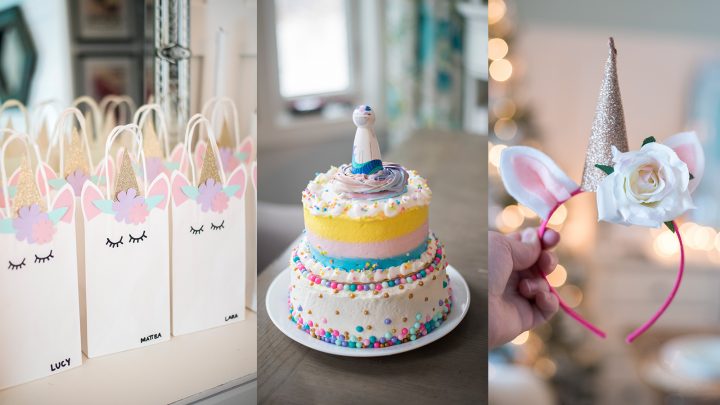 Make use of cardstock paper to make the cutest unicorn print party bags. It's one of those easy unicorn Cricut projects that you can finish in a flash! Use your left over cardstock and make colorful unicorn confetti!  
5. Pleating Pastels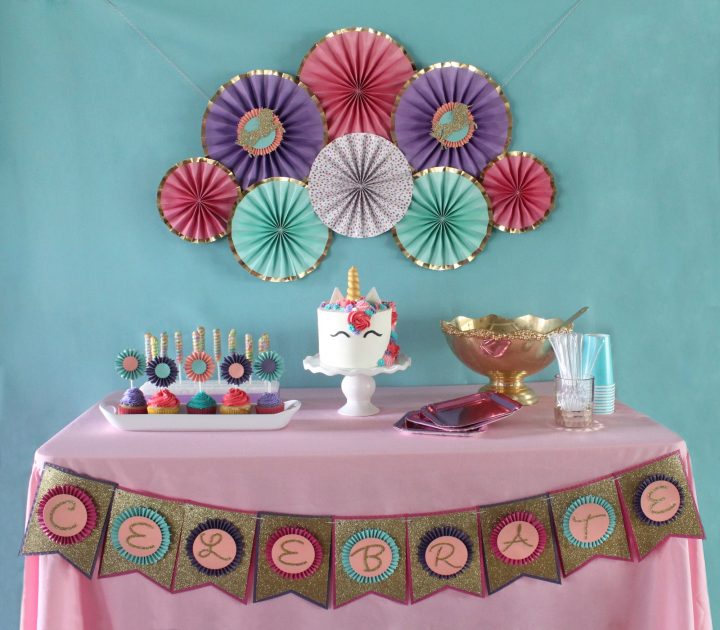 Make the perfect background for little one's birthday photos. It's super easy! Just hang a DIY unicorn birthday banner on the table or wall. Add their name or a message with the best vinyl for wall decals to create an instantly gorgeous backdrop.
6. Unicorn Cupcakes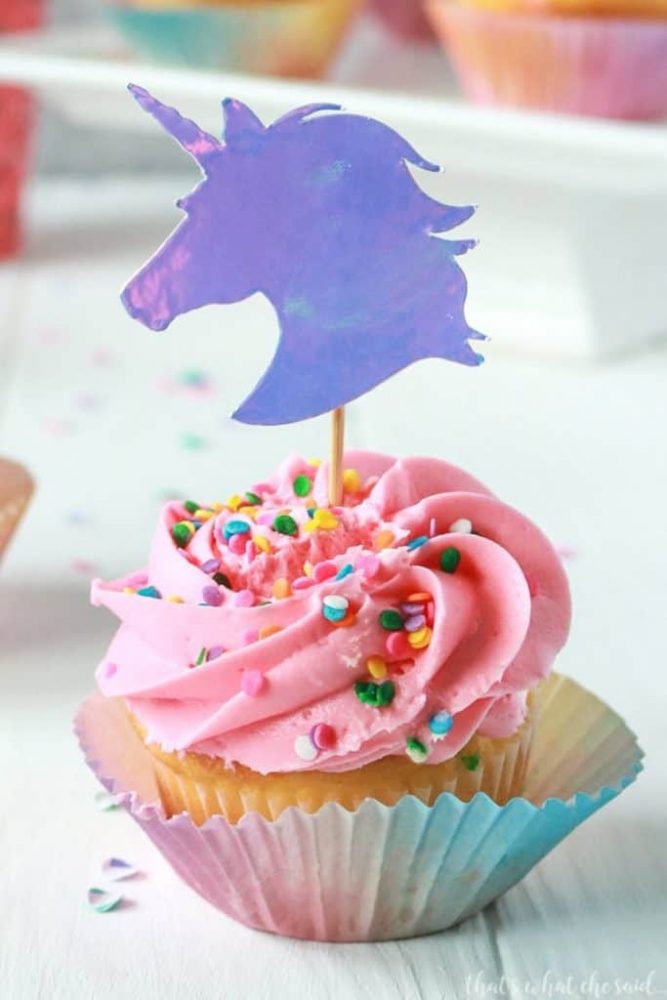 Create super cute DIY unicorn cupcake toppers. It's super easy! Use a cute rainbow-colored decorative vinyl for this free unicorn SVG with your Cricut or Silhouette. Cut & stick them on unicorn-shaped cards! Pop them in desserts and fun drinks at your unicorn party table!
7. Unicorn Fun-fetti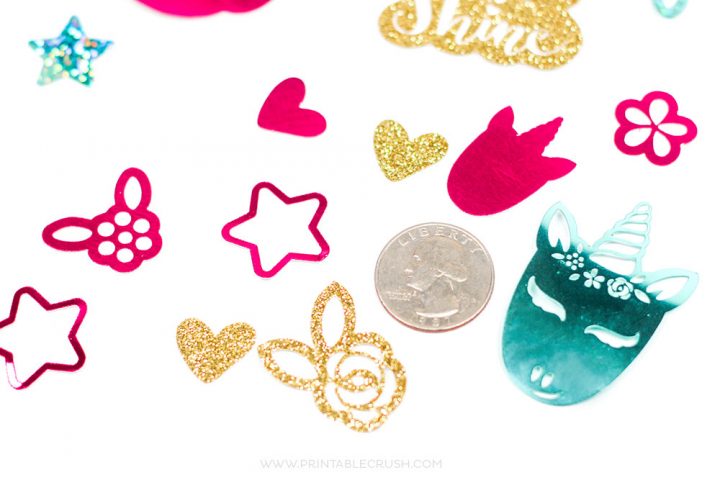 Sprinkle some magical dust into your little one's unicorn party using cute patterned vinyl sheets or cardstock with this unicorn SVG for creative DIY unicorn confetti. It will leave lots of sparkles wherever they go! Your party bags will definitely look amazing with these as well!
8. Unicorn Game
Create this unicorn horn pin using this free unicorn horn SVG and make some creative unicorn prizes with your own custom unicorn vinyl sheet. It's super quick and simple to make! Make more of these cute little horns for headbands, cupcakes, candy bags & more in an instant.
Looking For More DIY Unicorn Birthday Party ideas?
You'll absolutely love our Crafters Range of permanent adhesive vinyl, HTV vinyl, and sublimation paper that you can get custom printed in all the colors of the rainbow. Make your unicorn birthday ideas in a flash! It's magic!
Tag us @brightstarcrafters on Instagram & Facebook to show us your Cricut Crafts. Who knows… we might just feature your genius ideas on our blog! We can't wait to see what you create!
Want to Join our Community of Crafters?
If you love seeing what other Crafters are making & give advice, ask for help with your designs & talk about all things Crafting, you'll love our Bright Star Crafters Facebook Group.
Join us & our clever community of Crafters as we make all of the stuff we love. It's also a great place to access special Giveaways & discounts. Come & say hi.
Searching For Unicorn Vinyl Sheets?
The search is over! Bright Star Crafters got super cute unicorn patterned HTV that you can customize in colors that perfectly match your unicorn-themed birthday ideas. We've also got permanent vinyl and sublimation too! The best part? These are printed for you in the USA and shipped super fast! You're going to love them!